About Ballard Chiropractic Clinic
Ballard Chiropractic Clinic was one of the initial spine care clinics in the Ballard area of Seattle…established in 1960. The clinic was located in the downtown Ballard area for over 2-decades when it relocated just north to the Crown Hill area in 1982 where it stands today. It's original founder, Kenneth G. Sonderleiter, DC retired from practice in 1986 when Dr. Eric Wechselberger stepped in and continued his tradition of quality and caring service. Since that time, myself and associate healthcare providers have served the community with genuine passion, helping those in need reach optimum health.
Our interest is to see that you obtain your desired level of health, but we will always make recommendations and give you encouragement to strive for Optimum Health.
Striving for Optimal Health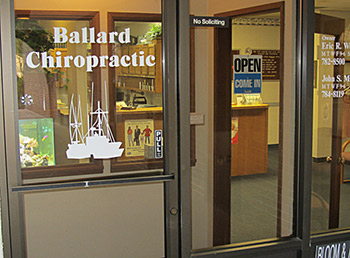 We are a low pressured office, not here to tell you this is all that is needed to get you well. Some just want the quick fix, take away the pain and see you later, while others prefer comprehensive care with longer lasting stability. If you desire natural health care, trust in us, your Seattle chiropractor and our many years of experience to get you well.
Seeking Chiropractic Care
Many people come to our office seeking Chiropractic and massage therapy hoping to find relief of their pain symptoms. Some are injured in automobile accidents or during work while others suffer neck and back pain from everyday physical and postural stresses. Our city has grown by leaps and bounds over the years and we all know of the pressures out there; from bad traffic, rushing the kids to sporting activities or just sitting for long hours in the office. This leaves us worn, stressed and fallen out of shape. Some try and counteract the damage done by exercise or taking medications for their pain symptoms, but we at Ballard Chiropractic also want to instill the importance of restoring and maintaining a healthy functioning spine. Those who find relief and eventual stability with our treatment can do much more and handle their daily pressures far better than before.

What We Offer at Ballard Chiropractic Clinic
Traditional Chiropractic – "hands-on" spinal manipulation
Massage Therapy – Swedish, Deep Tissue, Hot Stone, Cupping, etc.
Diagnostic Digital Imaging – High-Frequency x-ray
Intersegmental Traction
Moist Heat Packs
Custom-Made Shoe Orthotics – see Products List
Supplies – neck pillows, exercise balls, ice packs, low back braces, lumbar support cushions etc., w/pricing

We will make appropriate referrals to other healthcare providers when necessary.
Explore Our Website
We hope you explore this website and learn of the benefits chiropractic has to offer. Please take your time and realize that our conservative treatment option, in many cases, is the right choice before taking medication or going through surgery.
For those who already receive care at Ballard Chiropractic Clinic, congratulations on maintaining your good health. If not, we'd love to meet you and answer your questions. Contact us and let Dr. Wechselberger answer all of your questions.
---
About Ballard Chiropractic Clinic | (206) 782-8500