Health Products List
I put together a list of health care products that you may be interested in. Please go over each item that I nearly always have on hand in the clinic. If there is an item you want that is not listed here, just let me know and I may be able to track it down for you. We will do our best to verify insurance coverage for billing on any health care product you choose. Tax not included.
Thanks for trusting in me and my staff.
Dr. Wechselberger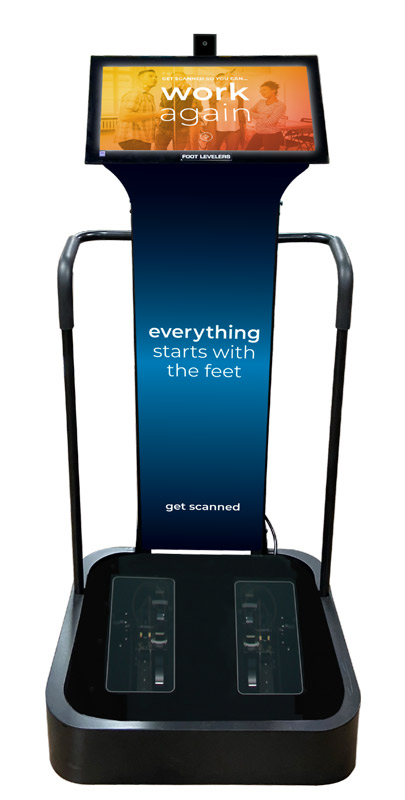 Shoe Orthotics
Foot Levelers custom-made shoe orthotics since 1952. Are your feet healthy? Do you struggle with plantar fasciitis? Did you know that flat feet, fallen arches, and foot imbalances can lead to foot pain, knee pain, lower back pain, and even shoulder pain? Foot Levelers Custom Orthotics help restore balance to your body by providing support for all three arches in your foot. Get scanned on your next visit in less than 5 minutes. Many styles are available, Dr. Wechselberger will help select the right shoe inserts for you based on your scan findings and the shoes you wear. Covered by most insurance. Orthotics Owners Manual
Your cost without insurance…..$300.00/pair
---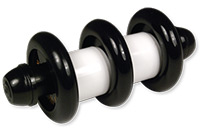 FootWheel
Great for relieving Plantar Fasciitis symptoms. A trigger point therapy tool and ideal during the break-in period for those who have new custom-made shoe orthotics. Easy to use. You can take this portable foot tool anywhere. Foot Levelers – What is Plantar Fasciitis?
$25.00
---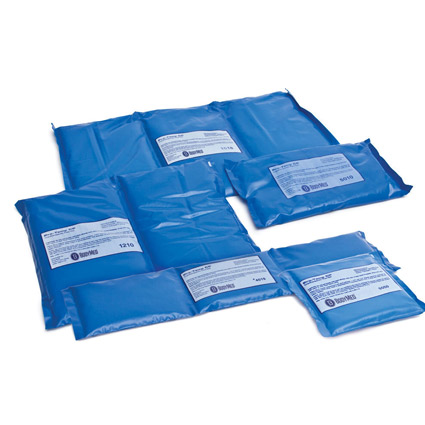 Ice Packs
BodyMed® Pro-Temp gel-filled ice packs are high-quality and heavy-duty… designed to reduce pain. The inflammatory response (inflammation) occurs when tissues are injured by bacteria, trauma, toxins, heat, or any other cause. The damaged cells release chemicals including histamine, bradykinin, and prostaglandins. These chemicals cause blood vessels to leak fluid into the tissues, causing swelling. Applying ice packs causes vessels to constrict reducing their tendency to ooze promoting faster healing. Apply 20 minutes to thin cloth-covered skin then refreeze for later use.
5″ X 10″…..$7.00
10″ X 20″…..$20.00
---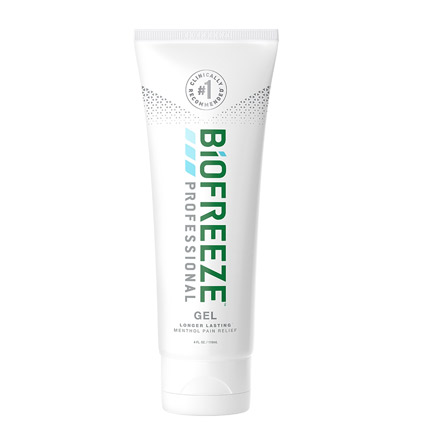 Pain Relieving Topicals
Biofreeze is the #1 used and recommended topical analgesic brand. The new optimized Professional formula provides a longer lasting experience, thanks to additional menthol. Biofreeze Professional helps alleviate pain from backaches, arthritis, sore muscles and joints, sprains, strains, and bruises. It's a great alternative to other forms of pain relief because it is non-systemic, non-narcotic,and contains no NSAIDs (non-steroidal anti-inflammatory drugs), salicylates or other addictive substances. NOT SOLD IN STORES.
3 oz / Roll-on…..$15.00
4 oz / Tube…..$15.00
---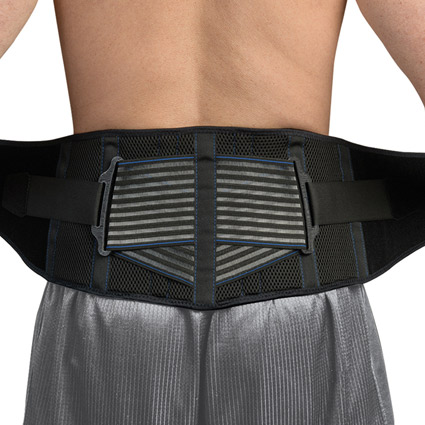 Low Back Braces
Body Sport® 9″ Ultra Lift Back Supports help unload some of the weight normally placed on the lower back, in the process reducing pressure on the spine's joints, discs, and muscles. Low back pain is the #1 condition most chiropractors treat, but wearing a back support helps speed recovery by preventing daily aggravations. Made of breathable elastic for added comfort. Lasts up to 10,000 Velcro® closures.
X-small / Regular…..$45.00
X-large…..$50.00
Premium Back w/CrossBand™…..$45.00
---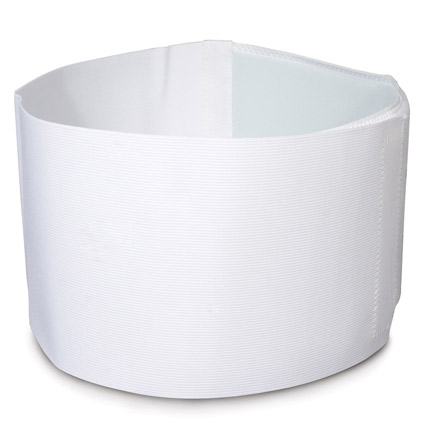 Rib Belts
Body Sport® 6″ rib support belts help stabilize the muscles around the ribs to reduce discomfort while recovering from a rib/chest injury. The targeted compression of this belt provides support while remaining comfortable and does not impede mobility. Lightweight and breathable for increased comfort and can be worn under clothing. Lasts up to 10,000 Velcro® closures. Designed for both men and women.
Regular…..$20.00
---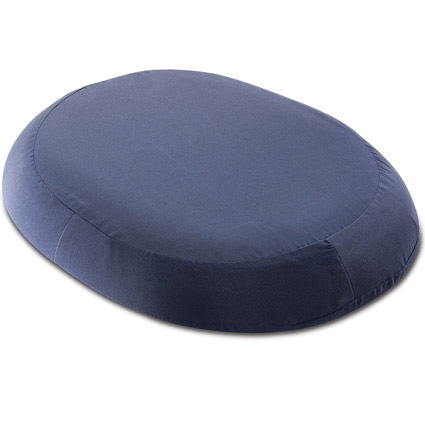 Donut Cushions
BodyMed® Ring Cushions are molded foam supports that comfortably conform to body contours helping to relieve pain associated with coccyx injuries and hemorrhoids. Designed for most any chair including your car seat. The removable polyester/cotton cover is washable.
Small – 14″ diameter…..$20.00
Medium – 16″ diameter…..$25.00
---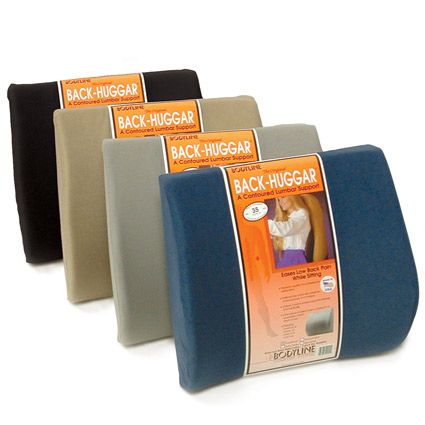 Lumbar Cushions
Bodyline Back-Huggar lumbar cushions promote healthy posture and ensures improved support to relieve low back pressure, pain and fatigue. Made from one piece of molded polyurethane foam. Hand-sewn zippered cover. Perfect for your computer chair, sofa and car seat. Everyone should own this cushion.
Standard…..$50.00
Bucket Seat thin…..$45.00
Bucket Seat thick…..$45.00
---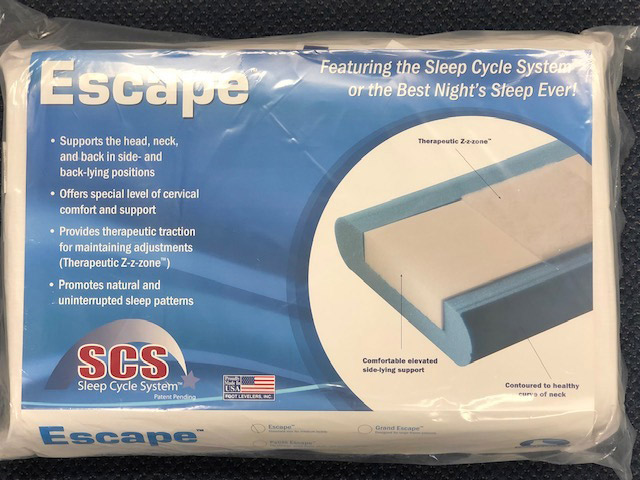 Cervical Pillows
Foot Levelers Escape cervical pillows are designed to provide ideal support for the head and neck during your night's sleep. This contoured pillow helps to reinforce the cervical curvature (lordosis) when on your back and with the firm side panels, a straight and supported spine is maintained for side sleepers. Helps during injury recovery, neck pain, muscle tension, and headaches by ensuring improved postural support.
Standard…..$55.00
Petite…..currently not available
---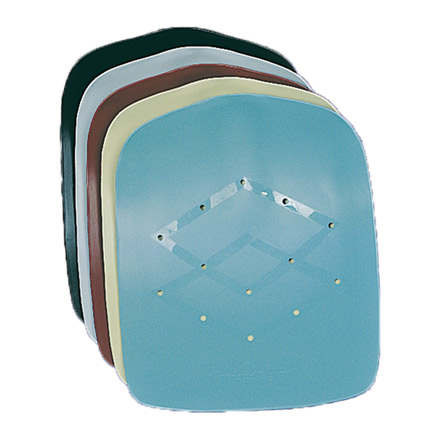 Orthopedic Seats
Relaxo Bak unique design eliminates pressure from the base of the spine (tailbone) to effectively relieve pressure and discomfort on the back. Portable, lightweight construction brings comfortable sitting wherever you go.
Ivory, Gray, Burgundy, Blue…..$30.00
---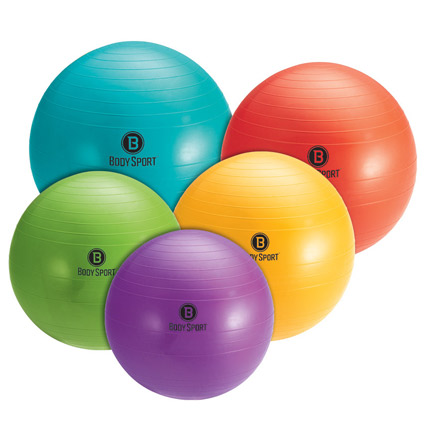 Fitness Balls
Body Sport® Fitness Balls are designed to strengthen, stretch, and tone all major muscle groups. This polypropylene exercise ball is designed to help enhance coordination and agility while improving flexibility. With its gently ridged surface, this fitness ball has an improved grip for all your training needs. Includes pump, illustrated exercise guide, and instructions. Maximum weight 600 lbs. Latex-free.
55 cm, 65 cm, 75 cm…..$25.00
---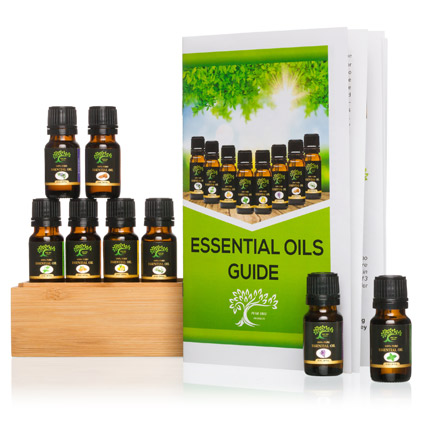 Essential Oils
Pear Tree Products (Dr. Wechselberger's private label) – Set of (8) – 100% Pure Essential Oils with Instruction Guide: Cinnamon Bark, Eucalyptus, Lavender, Lemon, Sweet Orange, Peppermint, Rosemary and Tea Tree. Our essential oils are hand-crafted from wild, cultivated, and Certified Organic sources. The most common way to use essential oils is to inhale them, either directly out of the bottle or by using a diffuser or humidifier. You can also dilute essential oils with a carrier oil and apply it directly your skin. Or you can get creative and add the mixture to a body wash, shampoo, or bath.
On Amazon – "Pear Tree Products Essential Oils Set"
Set of 8 — 10 ml vials…..$40.00
---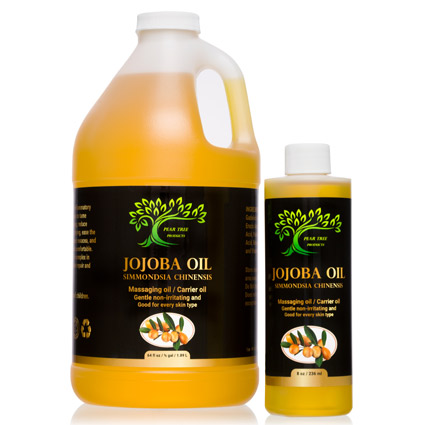 Jojoba Oil
Pear Tree Products (Dr. Wechselberger's private label) JOJOBA OIL is one of the top premium carrier oils available. Technically, jojoba isn't an oil, but a wax with powerful moisturizing properties. It's thought to closely mimic sebum, the skin's natural oil. It has a unique blend of beneficial properties rich in beauty-boosting vitamins plus antioxidants and fatty acids. It absorbs easily in the skin without clogging pores effectively soothing, calming and conditioning. Jojoba is rich in vitamins and minerals that nourish hair, including vitamin C, B vitamins, vitamin E, copper, and zinc. Because it strengthens hair, it is also thought that jojoba oil can prevent hair loss and promote hair thickness.
On Amazon – "Pear Tree Products Jojoba Oil"
64 oz…..$80.00
8 oz…..$20.00
---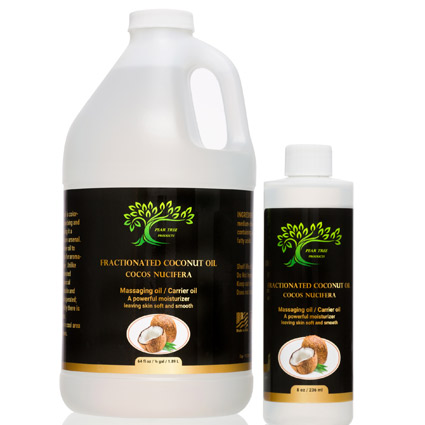 Fractionated Coconut Oil
Pear Tree Products (Dr. Wechselberger's private label) Fractionated coconut oil is a carrier oil rich in hydrating properties that help to soothe and soften your skin, while also helping combat stretch marks. When you apply the oil after shaving, it can help to prevent itchiness and razor bumps, leaving you with smooth, glowing skin. Fractionated Coconut Oil is a powerful facial moisturizer that won't clog pores or leave you with oily skin.
On Amazon – "Pear Tree Products Fractionated Coconut Oil"
64 oz…..$45.00
8 oz…..$15.00
---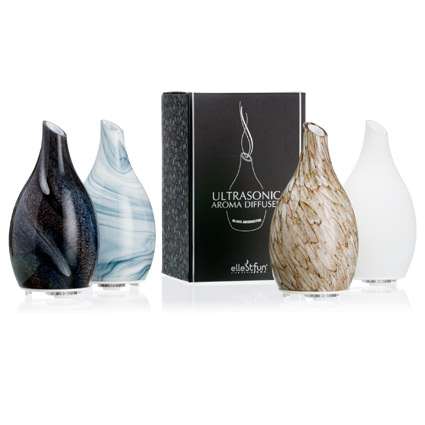 Aromatherapy Diffusers
Ellestfun diffusers are made with a unique art glass housing giving both a contemporary and ancient art appearance. With LED lighting shining through you can bring variable moods to any room. Our diffusers have a safety auto shut-off when the water in the unit runs low. You can set the diffuser into 2 different modes.       1. Emits mist continuously for 4 hours then shuts off. 2. Emits mist every 30 seconds for 8 hours then shuts off. Try our Pear Tree Products essential oils in your new diffuser and experience the natural healing benefits they provide.
On Amazon – "Pear Tree Products Ellestfun Diffusers"
Clear, Swirl, Fir and Brown…..$40.00

Health Products List Seattle WA | (206) 782-8500